Historic Columbia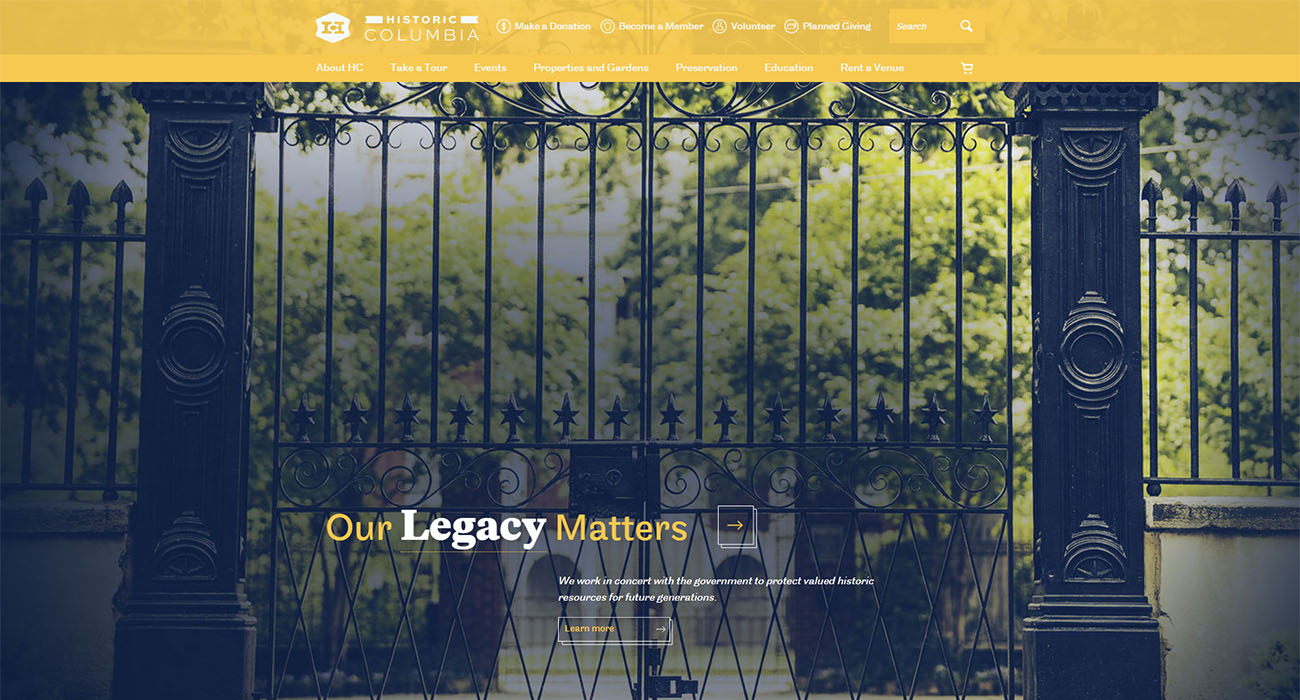 Tell us a bit about the history of Cyberwoven and how you've reached where you are today
Cyberwoven is a digital agency committed to creating web experiences that are unique, intuitive and seamlessly connected with the marketing and operating strategies of our clients. Since its start as a two-man boutique in 2001, Cyberwoven has grown to become a broad-based digital agency with capabilities spanning website design and development, custom software application development, branding and positioning, social media, content strategy and systems integration.
Tell us a bit about Historical Columbia and the site requirements
For more than 50 years, Historic Columbia has been working to support and protect the cultural heritage of Columbia, South Carolina. It works closely with city officials to ensure structures of historical importance are around for future generations and aims to engage private citizens in preservation efforts. On their new website, Historic Columbia wanted to promote special projects and fundraising events, profile the historic homes and rental properties that Historic Columbia manages, and encourage new membership, donations, and community involvement.
Why was Orchard chosen for this project?
Historic Columbia wanted to utilize an open-source .NET CMS. Orchard met those criteria and provided a simple user interface that was super easy to use.
What was the inspiration behind the design of the site?
Through its historic preservation efforts, Historic Columbia aims to connect the past, present and future within the community. That mission was the inspiration for Cyberwoven's design team, which is presented in the website design through a combination of contemporary and vintage elements in an energetic and vibrant color palette.
How was the experience integrating the design into Orchard?
Integrating the design with Orchard was fairly straightforward. Orchard's shape tracing module came was a handy tool that allowed us to easily determine what content values were available in any given spot on the page.
Give us an insight into how the site's content is managed using Orchard Content types, custom/gallery modules with content types and parts etc.
To ensure that even non-technical website administrators would feel comfortable making changes to the website, we kept the architecture fairly basic, using content types like Internal Page, Landing Page, Blog and Event.
Tell us a bit about technology stack behind Historic Columbia. What is the hosting platform?
For Historic Columbia, we used WebMatrix as the primary IDE because of its seamless IIS Express integration for doing quick site previews. The site is hosted on Microsoft Azure with an SQL Server database.
Was there any development challenges that you encountered and if so how did you overcome them?
Orchard's community is still in the early stages, so it was difficult for us to find quick answers to obscure problems that we ran into. This also made it challenging to determine "the right way" to handle various architectural decisions. Despite these challenges, we see a lot of potential in Orchard and are excited to see how the community continues to develop and what we can do to contribute.
How have the editors of Historic Columbia found their experience using Orchard?
As with any new CMS, there was a learning curve, but overall the experience has been positive. Our goal to make the management tools usable for non-technical administers was achieved and the Historic Columbia team has been great about consistently keeping the website up to date!
Will Cyberwoven be using Orchard for future projects?
We already have: scfb.org! The SC Farm Bureau embarked on a website redevelopment project shortly after historiccolumbia.org launched, and after evaluating their needs for the new website, Orchard seemed like a great fit.